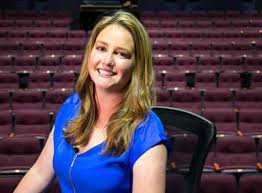 Executive Vice President,
Chair: Governance/Nominating
Alyssa Haney, originally from Miami, Florida, is the Marketing Specialist and an Assistant Vice President of First Foundation, the largest community bank headquartered in Collier County. In her position, Alyssa coordinates the Bank's communications, marketing campaigns, sponsorships, and donations. She also organizes First Florida Integrity Bank's Annual Charity Golf Tournament which raises over $100,000 annually for local children's charities. Since its inception in 2009, the Tournament has raised over $900,000 for local children in need.
A working member since 2011 with over 3,000 hours of volunteer service, Alyssa currently serves as the Executive Vice President of The Naples Players' (TNP) board of directors. Her passion for the arts is illustrated by the numerous hours of volunteer work at TNP spanning a variety of tasks including: stage management, acting, instruction, and technical projects. In 2019, Ms. Haney co-chaired TNP's 65th Anniversary Sapphire Soirée which raised over $1.2M for TNP.
Ms. Haney also serves as the President of the United Arts Council of Collier County, an auxiliary board member of Amber's Antibodies, and as Secretary of FNBGC Charitable Foundation, Inc.'s board of directors. Alyssa currently volunteers for United Way's 2020 Voluntary Income Tax Assistance Program providing tax help for low-to-moderate income families. Alyssa was awarded 2018 Young Professional of the Year at the Greater Naples Chamber of Commerce Excellence in Industry Awards.
The Naples Players
701 5th Avenue South, Naples, Florida 34102
(239) 263-7990
Monday-Saturday: 10am to 4pm
Sunday: CLOSED
*Will-Call & Wait-List opens 2 hours before curtain
(239) 434-7340
Monday-Friday: 10am to 5pm