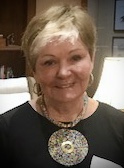 Patti hails from Wisconsin, a Packer Backer who traded snow for sand. She has been a Naples resident for 8 years. An active member of The League Club, has been member of grant selection committee and Board member of the Alliance for Period Supplies SWFL.
She holds a degree in social work and has served on a number of non-profit boards in Milwaukee. Has 3 adult children and 5 beautiful and outstanding grandchildren.
In her spare time Patti enjoys painting art projects and has been known to stay up till the wee hours working on a creative endeavor.
The Naples Players
701 5th Avenue South, Naples, Florida 34102
(239) 263-7990
REDUCED COVID HOURS
Monday-Friday: 10am to 4pm
Saturday-Sunday: CLOSED
*Will-Call & Wait-List opens 2 hours before curtain
(239) 434-7340
Monday-Friday: 10am to 5pm