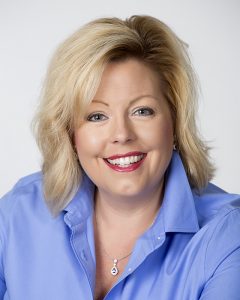 Robin and her family have called Naples 'home' since January of 2001.  Originally from Pittsburgh, Pennsylvania, Robin was a principal member of her family's retail supermarket business, which owned and operated several local franchise locations in Latrobe, Ligonier & West Newton, PA.  Primarily she was responsible for the stores accounting encompassing both the front office and the accounts payable, along with developing and maintaining the human resources department & in-store product marketing, along with day-to-day and customer service operations. During her time in Pennsylania, Robin was instrumental in creating, organizing, and sponsoring numerous fundraising events for local charities.  Robin was also very active in local musical theater and ballet, appearing in a variety of performances.
After moving full time to Naples, FL, Robin centered on her role as a full-time homemaker and mom to her two children. Ryan (and his wife Shuying "Sherry" Zhu)  is a graduate of Barron Collier HS, FGCU and the University of Texas at Dallas and is currently a social studies teacher in the Collier County School District. Mackenzie is an honors graduate of Seacrest Country Day School and a graduate of Southern Methodist University with a double major in Biological Sciences and Psychology, currently attending Veterinary School at  Kansas State University.
Now "retired", Robin spends her time volunteering specifically with programs that involve children, the arts or animals. She began her volunteering with Seacrest Country Day School's annual Gala For Treasures, (2003 & 2004) as the Marketing chair and the Silent Auction Chair.  She has also sat on the Board of Directors for Bayshore CAPA (currently CAPA) as their Events Chair and on the Marketing committee. She was instrumental in doubling their fundraising efforts and also promoting their mission through their events; Spring for the Arts Gala, Art Forms, Jazz on the Green and the Erich Kunzel Community Concert Series. Robin has served on the Board of Directors for the United Arts Council of Collier County and was also on their Executive Committee as President-Elect for 2015-2016. Along with serving on the Development, Marketing, Fundraising & Long-Range Planning committees, she also served as Chair of the Nominating and Governance committee and oversaw the recruiting, interviewing and hiring of a new Executive Director in 2016. She also served as the Celebrate the Arts Gala Co-Chair in 2014 and was the Gala Chair in 2015. In 2016 Robin was nominated (but was not a finalist) for The Community Foundation's Women of Initiative Awards.
Currently, Robin sits on the Board of Trustees for Naples Ballet. She has been a volunteer with Naples Ballet in many capacities since 2009. She has worked backstage, has performed as an adult character actor in 13 of their ballet performances, founded the Naples Ballet Parent Organization and has assisted with the planning and organization of their fundraising events (specifically to raise funds for their scholarship program); the "Ballerina Ball" and "Meet Me at the Barre".  She has also assisted Naples Ballets' ballet master, Christophe Maraval as the parent coordinator for the Miami City Ballet's Nutcracker performance in Naples from 2014 -2016.  Robin is a volunteer with The Naples Players and has volunteered as an actor in The Great Gatsby & TNP's Readers Theatre, and volunteered as backstage crew on Legally Blonde, Catch Me If You Can, Sister Act, Maple & Vine & Chicago. Since 2016 she has been a member of TNP's development committee and was appointed to the Board of Directors in 2017 where she continues her service on the development committee.
The Naples Players
701 5th Avenue South, Naples, Florida 34102
(239) 263-7990
Monday-Saturday: 10am to 4pm
Sunday: CLOSED
*Will-Call & Wait-List opens 2 hours before curtain
(239) 434-7340
Monday-Friday: 10am to 5pm