This is your theatre.
Together, our future is now.
Dear Friends and Supporters,
Our community needs an organization that brings us together to explore personal creativity and
artistic passions. The Naples Players continually seeks to enrich, educate, and entertain our community through a superior theatre experience. We are a premier community theatre, seeking to inspire passion for the performing arts through unparalleled access to the process, experience, and conversations surrounding the arts and our community.
Our iconic theater resides on 5th Avenue South, a functional symbol of the priority that Naples places on the arts. We are a hub of activity for an audience of 40,000+, an education program serving over 5,000 students in classes on-site, and a volunteer program that engages more than 600 members of the local community.
"I love the Naples Players. It is a wonderful family," Sue Rapanos, volunteer of 20+ years, recently shared. I couldn't agree more, and I am humbled by the outpouring of love and support from Sue and so many others in our community. Each year, volunteers give over 60,000 hours of their time, which is the single most important contributing factor to our awe-inspiring productions. Spending time together while working toward a shared goal, many volunteers find that they form lifelong friendships. All of this results in outstanding shows, which receive an impressive 97% satisfaction rating from our devoted audience. An even better measure of success is seeing our subscribers bring friends, neighbors, and extended family for an evening at the theater. The community comes together at TNP. Now, as we embark on a major renovation, the stage has been set for the future of arts in our community. Designed with you in mind, together we are the future.
It is a pleasure to provide this annual report to our supporters, who have stood by us for 69 years and counting. Our journey together has been incredible, and the scope of our service to the community, demonstrated within these pages, is nothing short of extraordinary. We are unlike any other theatre in the country…and we are right here in downtown Naples. This is your theatre.
The Naples Players exists for you and because of you, and I ask for your continued support through volunteerism, philanthropy, and of course, as part of our audience. We look forward to working alongside you as we continue to be the theatre for our community.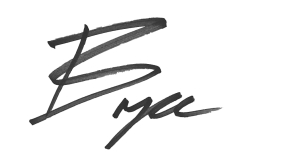 Bryce Alexander
CEO & Executive Artistic Director
Musicals That Bring Us Together
The Naples Players began in a local living room in 1953, and through generational philanthropy and the transformative power of local volunteer artists, we have become the cultural anchor of our community. 
Keep Reading
Musicals at TNP deliver a wow factor that our in the know subscribers have come to expect – right here at home. The joy of live music, the energy of dance, and the compelling stories bring audiences together for a shared experience. We love being the reason that groups of friends plan regular nights out; where parents and grandparents share the magic of theatre and self-expression with a child; or the place that a student in one of our outreach programs can see a show for the very first time.
"I've heard many people comment about how every show they have seen at TNP is top-notch. After only one show, I'm a believer! It was spectacular."
This is just one of the incredible comments our patrons said about the musicals in our 68th season. An average of 7,000 people attended the run of each musical last season, and gave us a 97% satisfaction rating. Our staff works hand-in-hand with more than 600 volunteers together serving in highly skilled roles to create sets and costumes, operate technical equipment during shows, serve as backstage crew members, and, of course, as actors on the stage. The incredible musicals we produce showcase the talent, skill, and the many different generations represented within our community.
Your talents, our stage. Just one reason why:
Together, our future is now. 
We are connecting generations.
Our students, artists, staff, and volunteers range in age from
Dramas that Grapple with Tough Topics
Our Tobye Studio Theatre is an intimate space, seating an audience of 101. Perfect for relatable comedies and delicate dramas, each show in the Tobye Studio is designed to bring the audience in close proximity to the stage for an experience that is exciting, personal, and immersive.
Keep Reading
Each season, shows are selected to create a balance of thought- provoking issues that allow audiences to continue the conversation long after they leave the theatre. Here are a few comments from our audiences this season…
"The actors were excellent and the play touched upon sensitive material but in a kind and funny way."

"You explored both sides very clearly, and without contempt or alienation for either."

" I almost did not attend the show, thinking it would be a heavy-handed attack on my values; but that wasn't the goal of the play and I am so glad I went."
Community discourse is a foundational element of American life. As a theatre for the community, we pride ourselves on serving as an important hub of civil community discourse. The need to respectfully discuss opposing views is so important that 91% of Tobye Studio patrons would recommend one of our 68th season's dramas to their friends.
Your views, our discussions. Another way that:
Together, our future is now.
We are breaking boundaries.
of our staff and volunteers are female.
The Naples Players continue to give us plays that do more than entertain. They make us feel, think, and question ourselves.
Comedies That Transcend Differences
We are bold, relatable, and entertaining.
Laughter is the best medicine – and there is nothing better than a great comedy on the mainstage! The artists embrace roles that bring humor and lightness to topics that address our shared humanity.
Keep Reading
From shows that take us on a tongue-in-cheek journey of romance, to performances that help us laugh at the challenges of aging gracefully – our audiences can't get enough of these great shows.
"The Naples Players have done it again!"

"Outrageous and hilarious. I enjoyed every minute."

"Could not stop laughing, even driving home."
Last year's comedies in Blackburn Hall received a 99% satisfaction rating. We love being a part of your special evening of escape and entertainment, and we know that our community looks to us for an opportunity to support and enjoy the arts in fun and exciting ways. Audiences tell us that their experience at TNP makes them feel more connected, more trusting, and more willing to engage with their community. 
Your laughter, our pleasure. Another way that:
Together, our future is now. 
Classes That Create Confidence
Arts education is so much more than a "feel-good" experience. In fact, the impact of Arts Education is deeply cognitive. According to the Schools Superintendent Association, "Pressure to improve reading and mathematics achievement is prompting elementary schools to trade off instruction in the arts for more classroom preparation for the mandatory high-stakes tests
Keep Reading
"Ironically, this is happening just when neuroscience research is revealing the impressive impact that the arts have on the young brain's cognitive, social and emotional development."
Meanwhile, recent research explored on TED Radio Hour has shown that arts education can also stimulate the teenage brain's reward center in the same way as risky social behavior – but without the potential for negative consequences. 
From scientific shifts in the developing brain; to the proven academic benefits of the arts; to the critical aspects of fun, imaginative play; our community trusts The Naples Players to offer education programs that empower and inspire students of all ages to learn and grow.
This is one of the reasons TNP was tapped to provide critical theatre programs to 17 Collier County Public Schools last year. 
Your drive to learn, our skilled instructors. It's another way that: 
Together, our future is now. 
We bring the arts to everyone.
We supported theatre arts programs at 17 Collier County Public Schools last year.
Programs That Enrich Lives
Our impact goes far beyond the stage. From those navigating sensory processing disorders, to veterans overcoming PTSD, to patients and guardians experiencing Alzheimer's, to those battling depression, even to therapists and care partners learning to communicate more effectively – we are paving the road to provide equal access to the arts.
Keep Reading
With "Relaxed Performances," TNP opens our doors to families impacted by sensory processing disorders and other developmental disabilities that make a traditional evening at the theatre impossible. We're bringing entire families together to experience theatre, often for the very first time.
Last year, our outreach and wellness program directly served more than 5,400 participants ages 6-90. Meanwhile, our KidzAct program gave out over 100 needs-based scholarships to students in Collier County, while 600 Collier County Public School students learned about the arts through our Technical Theatre Olympics, backstage tours, and a special matinee performance of Mary Poppins. Recently, we established a "Pay What You Can" ticket program to ensure our amazing performances are accessible to all of our neighbors – many of whom suffer financial hardships from shifting economic conditions.
TNP Readers Theatre provides volunteers an opportunity to perform without the demands of memorization, without weeks of rehearsal and performance, and without props and costumes – keeping the focus on the spoken word. Meanwhile, TNP Readers Theatre's one-act New Plays Festival provides community members the chance to have their plays read aloud for an audience. Recently, playwrights submitted more than 700 plays for consideration from around the country!
Your trust, our outreach. An unstoppable force because:  
Together, our future is now. 
We are leading the way in access to the arts.
community partner organizations served in the past year.
Volunteers That Are the Heart and Soul of TNP
Everything at The Naples Players exists because of volunteers. During our 68th season, 608 volunteers donated 62,919 hours fulfilling an astounding variety of roles.
Keep Reading
Did you know that there are over 40 different ways to volunteer at TNP? One single musical can require as many as 90 volunteers – from the ushers greeting patrons to fly rail operators and sound technicians, and of course, every actor on-stage. Without volunteers, there simply wouldn't be a show. Many volunteers have a long history with us. In the last ten years, more than 275 people contributed over 1,000 volunteer hours; 25 contributed more than 5,000!
We hear time and time again as longtime volunteers fondly recall the days when The Naples Players performed in a storefront on Davis Blvd., then the now-demolished KonTiki Theater, and finally our home on 5th Avenue South. New volunteers are welcomed into our family with open arms, and while they may come to us looking for a meaningful volunteer experience, they often find lasting friendships, as well.
Your time and talents, our genuine appreciation.  One more way that: 
Together, our future is now. 
hours were logged by over 600 volunteers in the past year.
Supporters That Keep Our Mission Alive
Supporters That Keep Our Mission Alive
The Naples Players that we know and love today is the result of a tradition of philanthropic partnership inspired by a shared vision of the importance of arts and culture. Prior to COVID, our sold-out shows and programs accounted for 60% of our operating revenue – a staggering 10% higher than the national average! Our patrons and volunteers go above and beyond, providing the other 40% through their generous donations, completing our annual budget. Every gift is an investment in local artists, our local community, and in local education. With your continued support, we are able to rise to the highest professional standards, demonstrate daring creativity,
and implement intuitive curriculum for our unparalleled education and outreach programs.  This level of access to the arts is unheard of outside of our community, and our donors help to preserve the culture of theatre and arts that our community was built on.
Now through our Legacy Society, individuals and families are sustaining the arts in our community for years to come by including TNP in their estate plans. A variety of gift planning options gives donors an opportunity to consider a donation that honors their passion for the arts in a way that goes above and beyond their lifetime giving.
Finally, 25+ local businesses and families have come together to provide critical sponsorships and grants directly to our programs. Their annual support demonstrates their commitment to maintaining the high-quality lifestyle we all enjoy.
Your generosity, our impact. Undoubtedly a reason why:
Together, our future is now. 
View Balance Sheet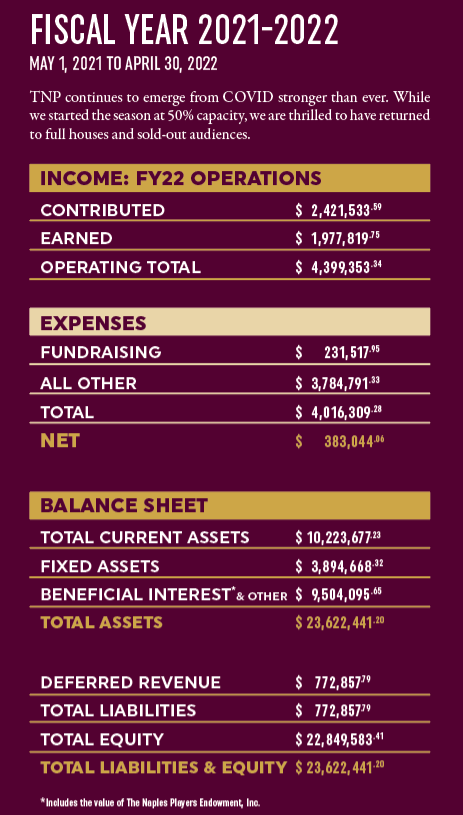 THE NAPLES PLAYERS IS A 501(C)3 NON-PROFIT ORGANIZATION WITH TAX IDENTIFICATION NUMBER 59-6154976. YOUR GIFT IS TAX DEDUCTIBLE TO THE FULL EXTENT ALLOWED BY THE LAW. PLEASE CONTACT YOUR TAX ADVISOR FOR ADDITIONAL GUIDANCE. 
OUR FLORIDA DEPT. OF AGRICULTURE & CONSUMER SERVICES REGISTRATION NUMBER IS CH3852.  A COPY OF THE OFFICIAL REGISTRATION AND FINANCIAL INFORMATION MAY BE OBTAINED FROM THE DIVISION OF CONSUMER SERVICES BY CALLING TOLL-FREE (800-435-7352) WITHIN THE STATE.  REGISTRATION DOES NOT IMPLY ENDORSEMENT, APPROVAL, OR RECOMMENDATION BY THE STATE.  THE NAPLES PLAYERS DOES NOT CONTRACT WITH ANY PROFESSIONAL SOLICITORS TO ASSIST IN FUNDRAISING.

The Naples Players
701 5th Avenue South, Naples, Florida 34102
(239) 263-7990
Monday-Saturday: 10am to 7pm
Sunday: CLOSED
*Will-Call & Wait-List opens 2 hours before curtain
(239) 434-7340
Monday-Friday: 10am to 5pm