Kick-off the holiday season. 
Stroll through a wonderland of themed holiday trees designed by Naples' finest artists while enjoying one of the decadent teas provided by The Naples Spice and Tea Exchange.
Attendees will have the chance to purchase one of a limited number of custom-designed wreaths to deck your halls at home!
PRICING
$18/adult
$12/child 
Admission ticketing based on time of entry to insure social distancing
$60/person for VIP Preview:
Includes champagne, artists meet and greets, and more!
The Naples Players
701 5th Ave South
SPONSORS & ARTISTS
Thank you to all of these businesses and individuals who have helped make this wonderful event come to life!
TREE SPONSORS
Lowes
TNP Membership Committee
Steven & Pamela Caruso
George & Barbara Davin
Diane Davis
Anthony, Brenda, Isabella & AJ Di Norcia
Normal Dolliff & Nancy Hayer
Denny & Tanya Glass
Bruce Gray & Robin Bache Gray
Graysen & Persephone Johnson – Got Junk Naples
Terry Libby
Glenn & Denise Miller – OTIS Smart Gun Care
Sean McGuinness – Earthcare Landscape Services
Jim & Peggy Monson
Jeri & Henry Price in Honor of the Wellness Classes at TNP
Michael & Renea Tucker
Barbara Uible
TREE ARTISTS
Rosamund Merrill
Dot Auchmoody & Mak Vanagas
TNP Scene Shop
Jackie Morelisse
Mollie LaTorre & Mary Anne McKerrow
Regina Broselle – Beach Country Co.
TNP Membership Committee
Rick Foreman – Pacifica Interior Design 
JamieLynn Bucci
Nancy Hayer, Donna Rohan & Julie Wright
Mimi Mason
Judy Smith
Naples Art – Marjorie Pesek, Gina Nesbit, & Lynn Borzumato
Cole Butcher, Pamela Caruso, & Manda Smith
Esther Snyder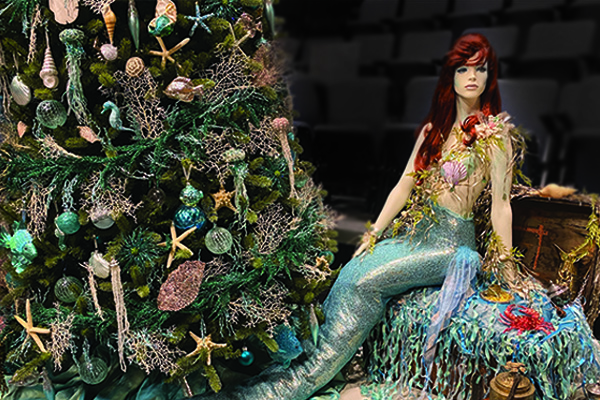 The Little Mermaid Tree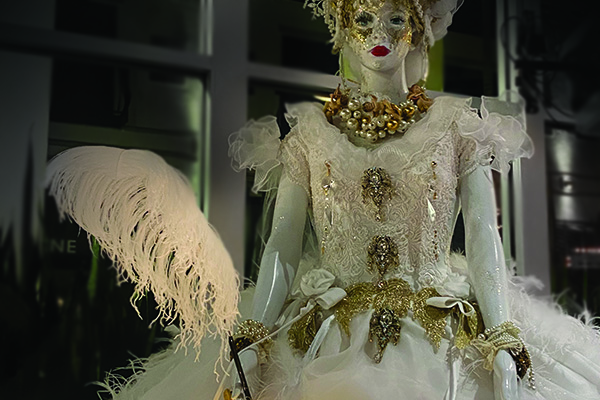 Moulin Rouge Tree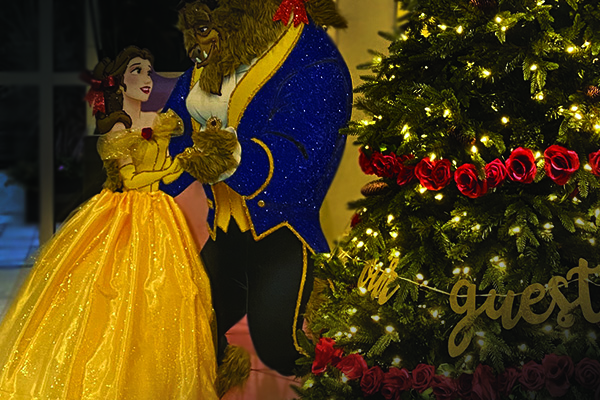 Beauty & The Beast Tree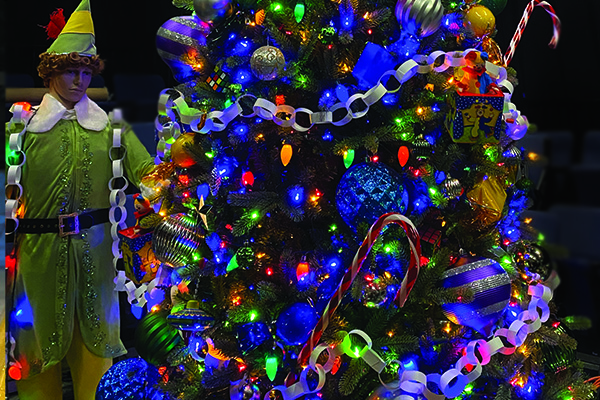 The Elf Tree
OFFICIAL EVENT PROGRAM
This is so much more than just a few festive holidays fir trees! Our artists have each created detailed scenes that bring the themes and joy from some of our favorite musicals and Broadway shows to life!  We can't give it all away – but you can now see all the details in our official event program below!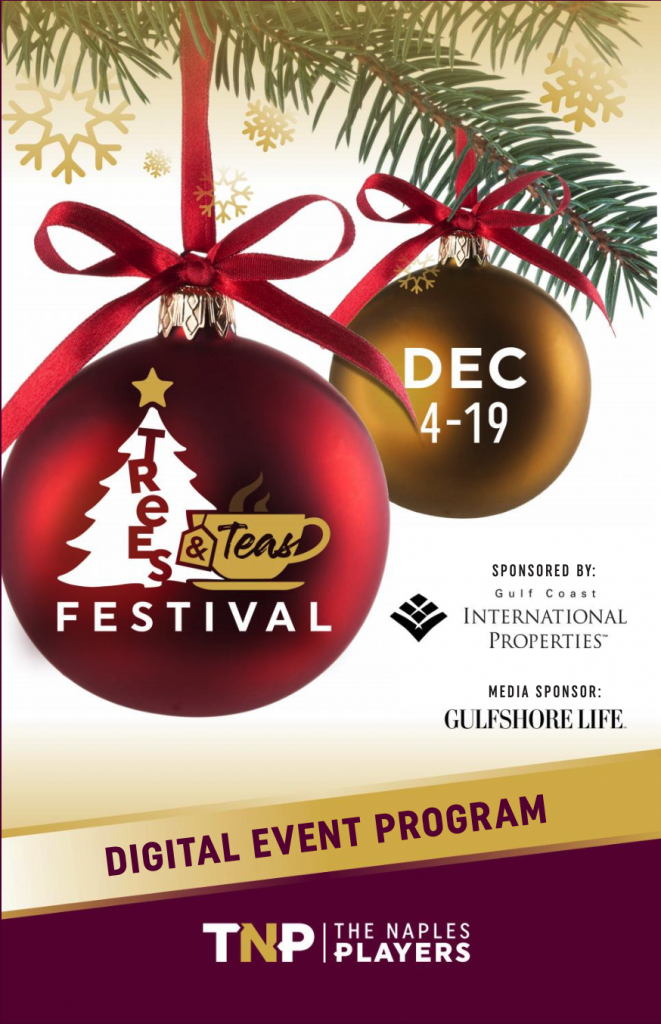 Parking Information
Parking is free and available in the parking garage immediately next to the theater
Patrons of Trulucks and OceanPrime enjoy complimentary valet parking 
Tickets
Ticket Buyers will be emailed a print at home ticket to bring with them for attendance.
Tickets are required to attend.
Patrons will only be admitted at the time of their ticket
Concessions
Enjoy the tea or hot chocolate provided with the cost of your ticket
Specialty cocktails, beer, and wine will also be available
Sodas, Candy, and other small bites will also be on hand
Snow
Audience members may encounter fake snow, comprised of soap – which falls from the sky
Questions?
Please contact the Box Office at 239-434-7340 x124
The Naples Players
701 5th Avenue South, Naples, Florida 34102
(239) 263-7990
REDUCED COVID HOURS
Monday-Friday: 10am to 4pm
Saturday-Sunday: CLOSED
*Will-Call & Wait-List opens 2 hours before curtain
(239) 434-7340
Monday-Friday: 10am to 5pm