Mission & Vision
The Naples Players continually seeks to enrich, educate and entertain our community through a superior theatre experience. We are a premier community theatre, seeking to inspire passion for the performing arts through unparalleled access to the process, experience, and conversations surrounding the arts and our community.
Our Impact
With the challenges and closures experienced due to COVID-19, 2020 was a year like none other at The Naples Players.  Still, our impact on the Naples community continued to grow and define our culture in new ways.  To learn more about our growth, programs, and impact in 2020, please use the link below to view our 2020 Annual Report.
Our Rich History
The Naples Players was founded on January 19, 1953, an idea which originated a year earlier at the home of Henry and Mary Watkins. Its first production, I Remember Mama, was staged in what is now Gulfview Middle School on March 20, 1953.
For more than two decades The Naples Players staged rehearsals and performances out of local auditoriums, restaurants, and even patrons' homes. It was not until 1975 that The Naples Players established a home base when a 40-seat playhouse was opened at 2363 Davis Boulevard. Having their own facility allowed TNP to focus on growing their classes and programs beyond just staged performances. Explosive growth followed and less than a decade later, they had outgrown their facility. After extensive renovations, the former Kon-Tiki Theatre was reopened as the new Naples Players theatre. A performance of Guys & Dolls was staged in March 1985 as the opening act.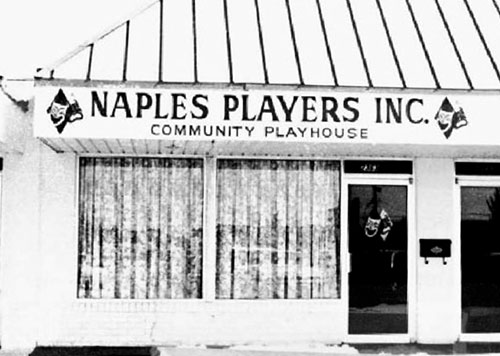 First Location of TNP on Davis Blvd Opened in 1975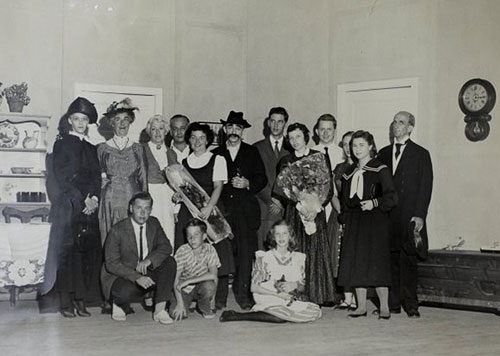 Cast of First TNP Performance of I Remember Mama, March 20, 1953
Unfortunately, the exterior of the new facility began to suffer irreparable damages in the early 1990's and the search was on again for a new place to call home. During this time, the theatre still thrived and put on an extensive season of performances, classes, and programs. In the early 1990's 5th Avenue South was not nearly the hub of Naples it is today. The Naples Players took a chance on developing a plot of land that was flanked by failing storefronts and a lack of foot traffic. In order to build a theatre from the ground up, an unprecedented fundraising effort was launched. The first major gift came from Frances Pew Hayes followed by additional gifts from Peg and Herb Sugden, Lois and Dick Blackburn, and Jay and Patty Baker. Three successive yearly grants from the State of Florida totaling nearly $1.5 million helped create the final result: the 1998 debt-free opening of The Naples Players' Sugden Community Theatre on 5th Avenue South, with the play Me and My Girl.
Today, The Naples Players continues to celebrate season after season of performances, programs, and classes which are geared towards inspiring our community and defining our culture for the future of the arts in Southwest Florida.
Learn more about The Naples Players' history in the video below narrated by Erin Laughlin, Marla Weiss, and Ted Tobye.
The Naples Players
701 5th Avenue South, Naples, Florida 34102
(239) 263-7990
Monday-Saturday: 10am to 4pm
Sunday: CLOSED
*Will-Call & Wait-List opens 2 hours before curtain
(239) 434-7340
Monday-Friday: 10am to 5pm