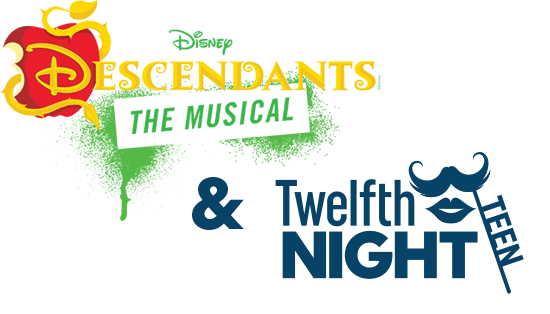 KidzAct: Disney's The Descendants/Twelfth Night Auditions
For ages 9-18.
Auditions will be Saturday, December 5th from 12p-4p.  Both shows are auditioning at the same time.  Students may audition for one or both shows. Please select which shows you are auditioning for with registration.  Auditions are free and walk-ins are always welcome!
The Descendants should pick a two (2) songs from the Audition Sides page.  Students will need to choose one (1) up tempo and one (1) ballad.  We will have callbacks for these auditioners on Sunday, December 6th starting at 12:00p.
Twelfth Night should prepare a one minute Shakespearean monologue.  These auditioners will have callbacks during audition day.
Final Casting Calls will be made starting Wednesday, December 9th.
For questions please contact Cole Butcher, Production Stage Manager (239-434-7340 ext. 125 or cbutcher@naplesplayers.org) or Kenzie Currie, Education Stage Manager (239-434-7340 ext. 127 or kcurrie@naplesplayers.org).
Disney's The Descendants
Cast: 9-18, Flexible Casting
Rehearsal Begins: Tuesday, January 19th @ 3:30pm-6:00pm
Rehearsals:  Tuesday–Thursday, January 19th–March 26th @ 4:30pm-6:00pm
Tech Week: Monday–Thursday, March 29th-April 1st @ 4:30pm-6:00pm
Performances: Thursday, April 1st @ 7:00pm; Friday, April 2nd @ 7:00pm; Saturday, April 3rd @ 2:00pm & 7:00pm
For full list of rehearsals, techs, and performances click here: The Descendants Audition Conflict Sheet
For Sides click here: The Descendants Music Sides
KidzAct Twelfth Night
Cast: 12-18, Flexible Casting
Rehearsal Begins: Monday, February 1st @ 4:30p-6:30p
Rehearsals: Mondays & Fridays, February 1st–April 9th @ 4:30p-6:30p
Tech Week: Monday–Friday, April 12th–16th @ 4:30p-6:30p
Performances: Saturday April 17th @ 2:00p & Sunday, April18th @ 7:00p
For full list of rehearsals, techs, and performances click here: KA Twelfth Night Audition Conflict Sheet
For Sides click here: Twelfth Night Reading Sides