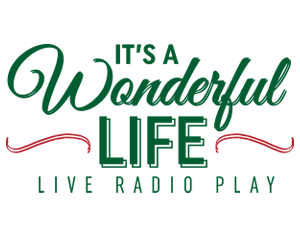 It's A Wonderful Life: Radio Play Auditions
Auditions will be Saturday, October 3rd from 12p-4p.  Auditions are free and walk-ins are always welcome!  It is recommended to arrive earlier in the audition process.
Final Casting Calls will be made starting Wednesday, October 7th. See below for show descriptions and dates.
For questions please contact Cole Butcher, Production Stage Manager, 239-434-7340 ext. 125 or cbutcher@naplesplayers.org.
It's A Wonderful Life: Radio Play
This beloved American holiday classic comes to captivating life as a live radio broadcast. The story of idealistic George Bailey unfolds as he considers what the world would be like without him one fateful Christmas Eve.
Cast: 2 Women (20s–60s), 3 Man (20s-60s), featured ensemble roles
Rehearsal Begins: Monday, November 2nd @ 7:00pm
Performance: Saturday, December 19th @ 7:30p in Cambier Park
For full list of rehearsals, techs, and performances click here: It's A Wonderful Life Audition Conflict Sheet
For Sides click here: Coming Soon