Thank you for investing in the future of the performing arts in Naples.
Please see the information below for "Self Set-Up" directions or contact information to have us walk you through you setting up your monthly donation.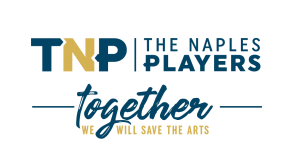 2 Easy Ways to Start Your Recurring Gift Today:
1. Do it Yourself On Your Smart Phone
Be done in less than 5 minutes!
You can easily and securely set up your recurring donation right on your cell phone.  Follow the instructions below and you'll be on your way to saving the arts each month for less than you're paying the cable company.
Text "TNP" to 239-349-3001
Click the link in the text
Select the monthly amount you wish to donate
Change the "Donation Frequency" to "Monthly"
Fill in the remaining information fields and click "Donate"
Your donation goes farther when you choose to "Cover Processing Fees" as well, please consider covering the small fee associated with your transaction.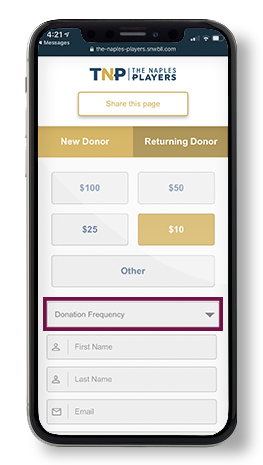 Need help?
Call us at (239) 434-7340, Ext. 124 for help with getting your donation set up.
2. Let us set it up for you!
We are happy to help securely set up your recurring payment over the phone or walk you through how to do it online.
Give us a call at (239) 434-7340, Ext. 124
Get started by filling out the information form, and we will call you.
Call us, or fill out the form, and we will call you!
You can call us at (239) 434-7340, Ext. 124 or fill out the information below and we can get a head-start on setting your donation and give you a call to set up your payment information.
ABOUT YOUR DONATION: OUR FLORIDA DEPT. OF AGRICULTURE & CONSUMER SERVICES REGISTRATION NUMBER IS CH3852. A COPY OF THE OFFICIAL REGISTRATION AND FINANCIAL INFORMATION MAY BE OBTAINED FROM THE DIVISION OF CONSUMER SERVICES BY CALLING TOLL-FREE (800-435-7352) WITHIN THE STATE. REGISTRATION DOES NOT IMPLY ENDORESMENT, APPROVAL, OR RECOMMENDATION BY THE STATE.
The Naples Players
701 5th Avenue South, Naples, Florida 34102
(239) 263-7990
Monday-Saturday: 10am to 7pm
Sunday: CLOSED
*Will-Call & Wait-List opens 2 hours before curtain
(239) 434-7340
Monday-Friday: 10am to 5pm